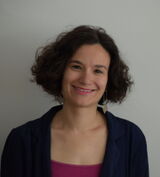 Emilie is the Interim Director of the End FGM European Network, responsible for the leadership, strategic oversight, and operational management and development of the End FGM European Network, during Anna Widegren's maternity leave.
She joins the network from Plan International, where, as a Partnership Manager, she supported the organisation in its engagement strategy towards the EU and in accessing EU development funding. Prior to this, she worked for the European Commission. In DG JUST's Gender Equality unit, she was responsible for developing and implementing the EU's policies and funding to combat gender-based violence within the EU, including female genital mutilation. Following this, in the Civil Society and Foundations Unit of DG DEVCO (now INTPA) HQ, she designed and implemented a strategy for engagement with philanthropic foundations working in development, managed funding for global and regional CSO networks and mainstreamed gender in her unit's activities.
She holds a Bachelor's degree in English Literature from the University of Bristol and a Master's degree in Human Rights Law from the School of Oriental and African Studies (University of London). Outside of work, Emilie currently co-leads an interactive empowerment and training programme for young adult women to spark commitment to social justice and activism, does yoga and ballet, reads voraciously, and is learning Spanish.