Elena Achótegui Sebastián [she/her]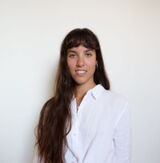 Elena is the Communications and Events Assistant and supports the Communications Officer. She mainly works in the organisation of events; the writing and preparation of information and promotional materials; and the production and publication of content for social media accounts and the website; in line with the End FGM European Network strategic plan and the 2021 work plan.
Before joining End FGM EU, she worked in Communications and Marketing teams in the creative field in the UK, and she volunteered at an international level with organisations working with migrants rights and feminist collectives. She has a solid experience in academic research, especially on feminist theory and gender, and she is particularly interested in the interactions between culture, art and gender perceptions.
Elena holds a degree in International Relations and Modern Languages from the University of Essex and an Eramus+ Master's degree in Latin American Studies (Sorbonne Nouvelle, University of Salamanca and Stockholm University), where she specialised on identity building and domestic worker's rights, based on decolonial and gender perspectives. 
Elena is fluent in Spanish, English, French and Portuguese.