Chara Papastefanaki [she/her]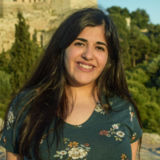 Chara is the Communications Assistant, she supports the communications for the Network's strategic priorities and helps with maintaining and improving End FGM EU's online presence, multi-channel campaigns and press relations.
Chara is a passionate defender of human rights and specifically gender equality and the fight against gender-based violence, which are at the centre of her professional and academic interests. Before taking on this role, she graduated from the Law Faculty of the National and Kapodistrian University of Athens and she worked as a trainee lawyer in Greece. In the past, she has engaged in various international youth programs in Greece, Germany, France and the USA that focused on international relations, diplomacy and human rights as a participant, a mentor and a director. Chara has also been a volunteer data collector for the UNDP and UN Women and is currently a volunteer-article writer for the L'Osservatorio: Research Centre on civilian victims of conflicts.
Chara is currently pursuing her Master's studies in Human Rights and Democratisation at the Global Campus of Human Rights and KU Leuven. Parallelly to her professional and academic activities, Chara is an activist for the Gender Network of Amnesty International in Greece and co-owns a philosophy blog through which she acquired experience in communication and content creation. Chara is also a freelance photographer as well as a wall artist.
Chara speaks Greek, English and French.