Anna Van der Heyden [she/her]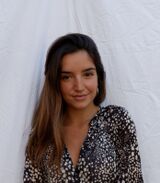 Anna Van der Heyden is supporting the Coordinator of Programmes in organising the projects' events and participating in the project management meetings and activities. As Programmes and Events Assistant at the End FGM European Network, Anna is in charge of supporting the logistics and organisations of the member's gatherings in Brussels for the Knowledge Sharing event and supporting the Coordinator of Programmes in communicating and working with the Ambassadors and Youth Ambassadors.
Previously, Anna worked as a Project Technical Assistant in an NGO dedicated to the socio-cultural development of the country of Mali and has volunteered in different associations organising and giving reception classes in the context of socio-labour inclusion and autonomy processes for refugees and asylum seekers in the cities of Barcelona and Rubi in Spain.
Anna is a curious and open-minded trainee willing to learn and expand her knowledge in the International Relations and Human Rights field. Furthermore, she is passionate about Women's Rights, Gender Equality and Humanitarian Aid-related topics.
Anna holds a Bachelor in International Relations from the University Blanquerna Ramon Llull which she completed in Spain, and she also is currently enrolled on a Master in European Union's studies from the International European Institute of Bilbao.
Anna speaks Spanish, Catalan and English.