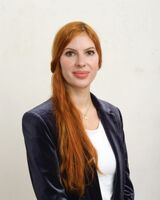 Sonja Störmer is a political scientist, human rights lawyer and certified mediator. She is the policy specialist on FGM for Germany's leading women's rights organization TERRE DES FEMMES.
Alongside her advocacy work, awareness-raising and campaigning to eradicate FGM, Sonja closely works together with activists and change agents from affected diaspora communities. In addition, she gives nationwide training to key professionals to ensure the protection of girls at risk.
Sonja gained extensive working experience in the prevention of gender-based violence in Germany, Azerbaijan and Mexico, where she co-founded the organization "Iniciativa Cambium México A.C.". Throughout her life, she has worked to empower women and girls.