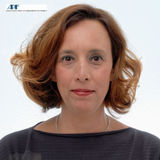 Sónia Duarte Lopes is a psychologist and the Lisbon Branch Coordinator at APF (Family Planning Association in Portugal) since 2004.
She represents APF in several working groups, such as the Inter-sectorial Group against FGM/C and other harmful practices, the organisation of the regional seminar "Zero Tolerance for FGM" and the Lisbon Council for Equality. She supports activists working with communities affected by FGM.
Sónia is also an experienced trainer on Gender issues, Sexual & reproductive health and rights, and Youth leadership programmes. She works on several projects aiming at reinforcing concertation and capacity building in the communities affected by FGM. She is also responsible for the training programmes with health professionals aiming at tackling and leading with FGM survivors, their family and communities, all the while ensuring prevention and protection. Moreover, she has been heard on GREVIO on the topic of FGM.
She is writing her PhD on Gender Studies at the Instituto Superior de Ciências Sociais e Políticas, in Lisbon.
Sónia joined the End FGM European Network's Board in April 2019.