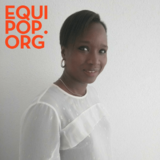 Sokhna Fall Ba is a project officer at Equilibres & Populations (Equipop) since 2016. She is in charge of the Protecting the Next Generations project for the abandonment of Female Genital Mutilation (FGM) and child marriage, implemented in Mali since 2006 and more recently in Burkina Faso and within migrant communities in Paris. She also works on European partnerships and Building Bridges projects to tackle FGM in migrants communities in Paris.
Prior to Equipop, Sokhna had a large amount of experience in migrants' social and professional integration, for women in particular.
Sokhna holds a Master's degree in local development. She has been trained on gender issues and women's empowerment and has working experience in NGOs in Senegal on youth ladership programmes.