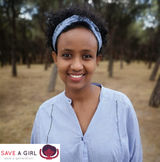 Hayat Traspas (Kenya, 1989) is Co-Founder of Save a Girl Save a Generation, one of the leading Spanish organizations in prevention, awareness, and eradication of Female Genital Mutilation. She is also the Desk Officer of Save a Girl Save a Generation Kenya.

Her professional work is linked to the audiovisual production company Deer Watson Films: there, she directed the production of several documentary film projects in developing countries, always related to cooperation and human rights issues. For this reason, she has experience in fundraising and organising projects on the ground.

As the first generation in her family free from Female Genital Mutilation, her major objective is to contribute to a world without any form of gender-based violence.