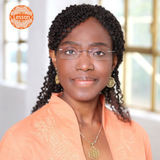 Gwladys Awo is the Co-Founder of the association Lessan e.V, based in Germany. She is a social scientist and received her PhD in October 2018 on the subject of "Female Genital Mutilation/Circumcision - Dealing with affected communities".
In December 2018, she published the fact and information brochure "Female Genital Mutilation in the Refugee Context - Challenges and Recommendations for Action" in collaboration with Plan International.
Gwladys Awo develops various integration projects for women affected by FGM/C and gender-based violence and she also coordinates European projects against FGM/C in Hamburg, Germany.
Gwladys Awo is moreover a Board Member of the Integration Advisory of the Ministry of Labour, Social Affairs, Family and Integration in Hamburg.