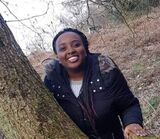 Cynthia Karanja (Kenya, 1995) is a community health ambassador (CHA) in Ireland.
Her roles at AkiDwA involve planning and developing interactive activities as well as hosting community conferences, where she provides information in relation to complex issues affecting migrant women.
Through collaborations with educational institutions, she has created awareness on topical issues affecting migrant women as well as educated youth on how they can be actively involved in eradicating harmful practices.
Her objective is to live in a world where all girls have a right over their bodies and are free from the shackles of harmful practices.