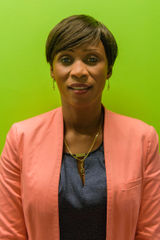 Name: Fatou Diatta
Country of origin: Senegal
Living in: Germany
Languages: French, English, German, Woloff and Diola.
Occupation: Artist & Activist
Fatou or 'Sista Fa' has been working to end FGM since 2007. Using her music to progress her engagement and create awareness in social and political themes focusing on women's rights in Senegal. Through art and music, Sista Fa works on the issue of FGM with communities young and old in Senegal, Guinea-Conakry and Burkina Faso - especially targeting younger generations through the medium of rap-music.
A passionate activist and artist, Sister Fa works relentlessly in the fight against FGM. Her desire to sensitize the population of her home country inspired the project 'Education sans Excision' (Education without Cutting). Since 2008, Sista Fa has successfully toured annually with her band through Senegal. In cooperation with NGO's like Tostan, Orchid Project and World Vision she has achieved - along with many other things - the abandoning of FGM in her home village 'Thionck Essyl'.
Links
YouTube channel: https://www.youtube.com/user/sisterfahiphopqueen/
Article: https://www.theguardian.com/music/2013/feb/16/sist...