Why influence policy?
Policies can be defined as:
«Action plans containing principles to achieve an objective, and outlining who will carry out the concrete actions that will lead to the achievement of that set goal»
Policies are normally put in place by those in power in any public or private institution, but should be drafted in meaningful consultation with those concerned.
Policies on which End FGM EU works are related to:
Combatting Gender-Based Violence;
Supporting Survivors;
Ensuring protection for women and girls at risk;
Helping women and girls fulfil their potential.
When a policy is lacking, advocates push policy-makers to address the neglected issue
We try to influence decision-makers, propose reviews and modifications to achieve positive change, when a policy:
Does not meet the needs of its targets;
Violates human rights;
Is discriminatory or harmful;
Has gaps that need to be filled;
Is not effective enough and could be improved.
For instance, when a comprehensive European strategy against FGM was lacking, we advocated for it to be created, and successfully achieved the first ever EU Action Plan on eliminating FGM in Europe and beyond!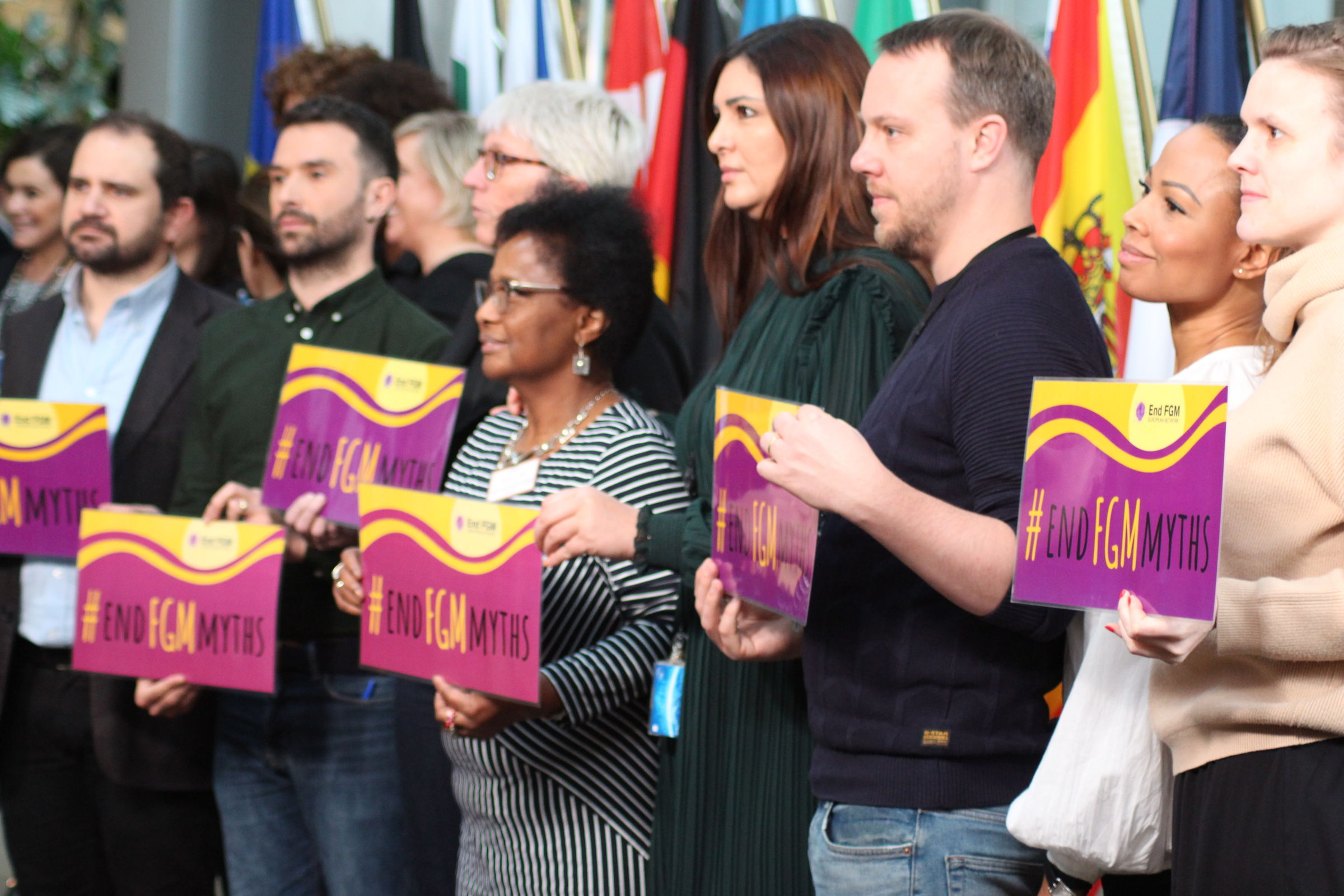 What is "advocacy"?
Advocacy is a deliberate, strategic and non-discriminatory human rights-based process, formed around evidence and the experiences of rights-holders, aimed at influencing decision-makers and other relevant stakeholders in order to:

Hold duty-bearers to account;
Achieve change in policy and practice;
Contribute to the ending of the practice of Female Genital Mutilation.
How we influence policy

At End FGM EU, we influence policies at international level, European level (both the Council of Europe and European Union) and at national level. Whilst doing this, our Members are always at the heart of our work.

More

Our main areas of work

​Our advocacy work to end FGM and support Survivors focuses around four areas, which are particularly relevant in the European policy context: Gender-Based Violence, Asylum, Children's rights, FGM is Global.

More

Who we work with

End FGM EU is involved in a number of partnerships at European, regional and global level. Advocating through such partnerships is efficient for successfully influencing decision-makers, by creating synergies, combining strengths and talk with a common voice.

More

Our policy achievements

More