LebKom e.v. - Lebendige Kommunikation mit Frauen in ihren Kulturen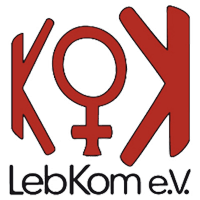 Lebendige Kommunikation mit Frauen in ihren Kulturen (Vivid Communication with women in their cultures) is an NGO operating internationally with 30 years of experience in the fields of sexual and reproductive health and rights as well as the reduction of violence against women and the concrete and large-scale implementation of human rights for women and gender equality.
LebKom e.V. strength is training and education for women and men in their cultures with a focus on protecting girls from FGM and empowering women. As men are the decision-makers, one of the principals of our work is to involve 50% men and 50 % women.
LebKom e.V.'s work is scientifically based, using the Value-Centred Approach, an innovative method developed by the CENTER for Profs.
LebKom e.V. special focus is the sustainable abandonment of FGM, our main regional areas are Germany and Kenya.
According to a United Nations study, LebKom e.V.'s FULDA-MOSOCHO PROJECT, which emerged from requests by the local population in Kenya and is implemented through cooperation based on equality, is one of the most successful worldwide in the fight against FGM.
Men are one of LebKom e.V. main target groups. First they decide to protect their own daughters and then whole generations of girls from FGM.
In Germany, LebKom e.V. conduct measures to sensitise the population about FGM, especially in the schools and for professional groups, support migrants in raising awareness in their communities, and engage in lobbying and networking on the European level.