Traineeship Offer: Communications and Events Assistant
END FGM European Network - Communications & Events traineeship (6 months)
Download the full job offer here
Download the Application form here

The End FGM European Network is looking for a dynamic Communications & Events trainee to assist in its implementation of the 2021 Work Plan.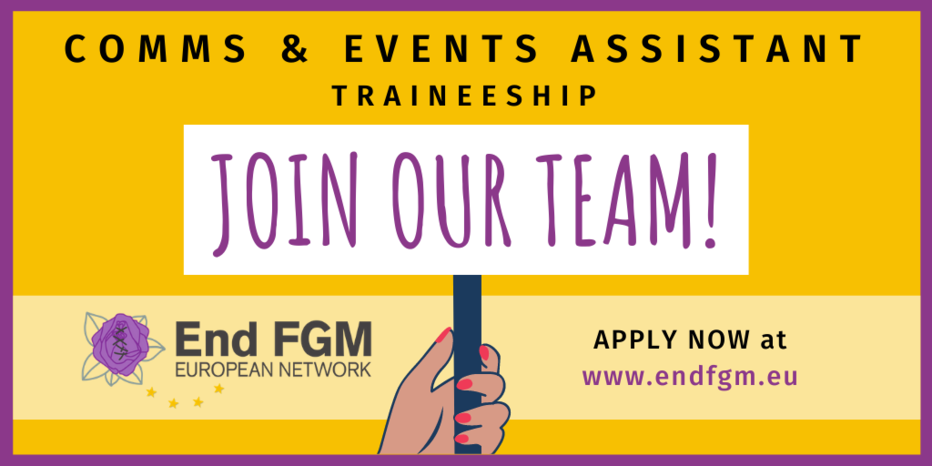 Job purpose
The trainee is required to work in the Secretariat of the End FGM European Network to assist in the communications work of the organisation as well as in the organisation of the events of End FGM European Network, in line with the Network's strategic plan and Work Plan 2021.
The Communications and Events Assistant will support the Communications Officer (CO) in:
Developing and implementing the Network's communications strategy and plan;
Communicating the Network's key messages, adapting the language to suit the audience (wider public, decision-makers, key stakeholders);
Preparing specific communications actions for events and campaigns;
The running of the social media accounts of the Network (Facebook, Twitter, Instagram, LinkedIn, Youtube) and the website management
Support the creation and dissemination of the quarterly Newsletter
Support the Director and the Secretariat in the organisation of the events of the Network.
Main Responsibilities
Support the CO in maintaining, producing and processing website content using Network's Content Management System (CMS). Contribute to improving the website, CMS and mailing lists and social media accounts.
Supporting the production and publication of content for the Network's social media accounts (Facebook, Twitter, Instagram, LinkedIn, Youtube).
Support the CO in drafting and preparing information and promotional materials relating to the Network for various target audiences - newsletters, FGM in the news, infographics, leaflets, videos, pictures, etc.
Support internal communication with Members, Partners and Ambassadors.
Assist in the planning and preparations of Network events.
Reports to: Communications Officer and Director
Qualifications
University degree in Communications, Political Sciences, Humanities or Social sciences; or equivalent work/volunteer experience.
Essential:
Professional fluency in oral and written English,
Exceptional verbal and written communication skills
Ability to use social media in a professional setting
Experience in developing and producing communications deliverables: newsletters, leaflets, etc.
Strong organisational skills
Desirable:
Knowledge of EU institutions and understanding of policy and decision-making in the European context
Good knowledge of French, other EU languages would be an asset
Experience in using and updating the website content management system MODX
Familiarity with graphic design and video editing softwares and tools
Knowledge of the EU institutions and understanding of EU decision-making
Understanding of violence against women (VAWG) and gender issues (knowledge on FGM would be an asset)
Experience in organising events
How to apply

Please send your CV and completed application form to mmhamedi@endfgm.eu
Please mention "Application Communication & Events Assistant" in the subject line
You can find the application form here.
The selected candidate would start at the earliest convenient date possible for the applicant (end of April or beginning of May 2021)
We will be accepting applications, and conducting interviews, on a rolling basis. We will close the call as soon as we have found a candidate or on 10 May 2021 at the latest.