​Reflections from Ouagadougou: A Pivotal Moment for the End FGM Movement?
Last week I travelled to landlocked country of Burkina Faso for the International Conference on Female Genital Mutilation under the theme: "Galvanizing Political Action to Accelerate the Elimination of Female Genital Mutilation by 2030."

This meeting was co-hosted by the UNFPA-UNICEF Joint Programme on the Elimination of Female Genital Mutilation and the African Union. I was delighted to speak at the political dialogue to shine a spotlight on the global elements of FGM and highlight, among other points, the important work of the End FGM EU members on building bridges between stakeholders in different regions of the world.


For those working in the development sector, these types of conferences are nothing new. They occur frequently under different headings and people (including myself) often question their overall usability. But this felt different.This time there was a real sense of urgency and eagerness to address the issue of female genital mutilation. Recent reports by UNFPA have shown that we are at a crucial moment in the end FGM movement with new figures - which were continuously referred to during the conference - projecting that the current estimates will rise from 3.9 million girls cut each year to 4.6 million by 2030, unless massively scaled-up efforts are taken urgently to prevent that from happening.These figures are linked to estimated population growth in FGM-practicing communities, but the stark reality is that all progress made to reduce FGM prevalence rates in the past three decades will be dramatically reverted.

"Current estimates will rise from 3.9 million girls cut each year to 4.6 million by 2030, unless massively scaled-up efforts are taken urgently to prevent that from happening."
Coming away from this event, I had some top takeaways that stood out:
Change needs to be a collective effort

A clear message from the conference was that FGM is a global issue and therefore requires global action. To effectively tackle FGM on a global scale there is the need to develop:
transnational interventions

measures with cross-border dimensions

cooperation between stakeholders in different regions in the world
These efforts very much align with the work of the End FGM European Network. Secondly, and perhaps not mentioned enough; several references were also made to addressing the root causes of FGM such as unequal power relations, social norms, stereotypes and attitudes condoning violence against women. FGM is at its heart, an issue of gender inequality and something we need to collectively address;
Importance of the African Union commitment to ending FGM
Effective political leadership is essential if we are to navigate the change needed and rise to both the challenges and opportunities in the years ahead. The political will to end FGM was evident in Ouaga through both the commitments and the input from Ministers from Africa and Indonesia. However, from a personal perspective, I was inspired to see the leadership of the African Union. One of the key outcomes of this conference is an African Union campaign on FGM. This signifies that, within the decade of women, ending FGM should be a priority for Africa. As I stated above, FGM needs a collective effort and this campaign has the potential to bring together the political will of African leaders to make change happen for who it matters most: girls and women at risk of being cut;

Empowerment of survivors and youth
It's clear that we won't end FGM without mobilising and preparing the next generation of activists for the tasks ahead. It was wonderful to engage with so many driven and engaged young activists.Through these conversations, I have learnt that NGOs (and other institutions) must give activists the space to input into our work and we must invest in them to embolden their own efforts. To those survivors who spoke so passionately: I salute you! You have reminded me that we also have a duty towards you and need to ensure that while raising awareness we are not stigmatising.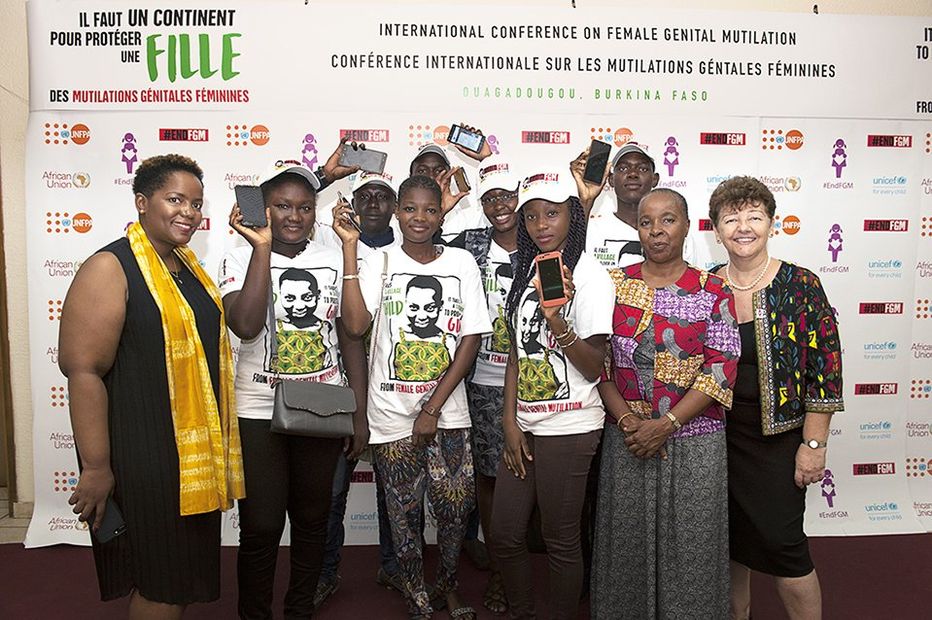 So, was this a game changing moment for the end FGM movement? Coming back from Ouagadougou it certainly feels like there is an overwhelming consensus among those who attended on the need to dramatically increase efforts.The high level political commitments and the lead that the African Union is taking can only be applauded. However, I left still unclear on how these commitments will be followed through? Boarding the plane back to Brussels, I am leaving with a sense of hope - but with still a long road ahead of us, there is much work to be done. With the voices demanding an end to FGM now louder than ever, action must indeed follow if we are to end FGM for good.