One Bead at a Time: Bracelets for Action
I have always been interested in inequality, poverty and human rights violations. I do not remember when it was the first time I heard about this harmful practice, as I have always seen FGM as a human rights violation against women and girls. These interests made me to choose FGM as a topic for some of my university papers that eventually lead me to End FGM EU to work as a Communications Assistant.
A good way to support this cause is to raise awareness, spreading the word, and speaking out against FGM. To do so, some years ago I convinced several of my friends, and also some of my mother's friends, to prchase a 'Pulsera contra la Mutilación Genital Femenina' (Bracelet against FGM). I have also chosen to give these bracelets to important people I have crossed paths with, such as to an indigenous woman from Bolivia that I had the opportunity to know in Madrid, a really courageous teenager in Paraguay with who I shared some moments in several congresses where teenagers were the guiding voices, to one of my best friends on her birthday and also to my supervisor at End FGM European EU.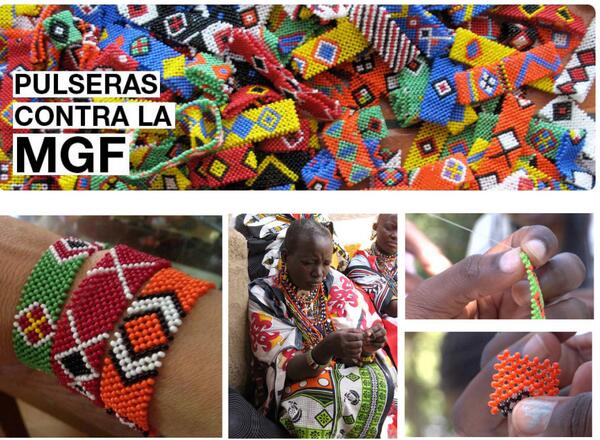 These Masai bracelets have a meaning and that is why I think that this little gesture can make an impact in the world. For me, in a moment of time and in a society where we have almost everything, these bracelets have more meaning that just being a bracelet. Giving one of these bracelets helps to raise awareness about FGM, but also the cost supports different projects that are making a difference in the fight against FGM. With the money, Mundo Cooperante, an NGO that has projects in different countries, earns with the selling, supporting a Tanzanian organization called NAFGEM, that have two shelters for survivors of FGM and child marriage and where girls at risk of those find a place to feel safe. The bracelets also give some income to women without resources and to women that previously have obtained a salary from performing FGM on girls and adolescents.

As these bracelets are hand-made, all of them are unique, but they share a common characteristic: they have a symbol of the fight against FGM, an 'X' that represents a woman trapped in a diamond, imprisoned by the constant threat of violent mutilation.
FGM is a cultural practice widespread within the Masai community, considered a rite of passage from childhood to womanhood. So before getting married, Maasai girls in Kenya and Tanzania, must undergo FGM.
If you wish to purchase one of these bracelets, you can visit http://www.mundocooperante.org/pulseras/eng/
By Sara García de Blas