End FGM Volunteer Abdulhadi: "Every day we have new challenges in ending gender-based violence and FGM"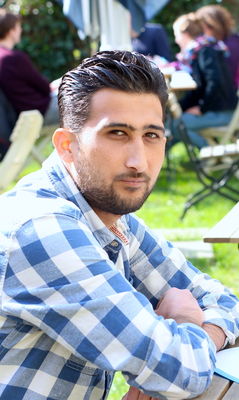 Last year, we had the pleasure to welcome a short-term volunteer in our team to assist us with the preparations for our events. Abdulhadi joined us thanks to Tandem, an initiative linking refugees with NGOs based in Brussels.
Read about Abdulhadi's life in Belgium so far and his experience volunteering with us:
"Hello, my name is Abdul Hadi Sheikh Ali.
First I would like to thank Tandem for giving me the opportunity to be a member of the End FGM Team and for creating a bridge between migrants and the world of work and the office.
I have gained lots of experience and created connections during the two weeks I spent with this wonderful team.
The first time that I heard about female genital mutilation was during my travel to Egypt. There, it is considered a crime punishable by imprisonment from five year to seven year according to the latest amendment, and for me, as a law student, I was interested in the practice as a criminal offence.
That was what I learnt about the practice during my long trail from my home land across many borders and lands, until I arrived in Belgium one year and half ago. When I left my home, I did not know where I would end up; I just had to leave. That was so difficult for me and I felt depressed.
When I arrived in Brussels I started providing a volunteer translation service for refugees in medical situations, such as in hospitals. I also provided translation support and advice for those seeking asylum, including working with many lawyers, due to my experience and studies in international law.
This situation taught me a lot about human rights in asylum. Those seeking asylum are in need of support and information; so many times I witnessed the new arrivals having to deal with new kinds of documents and procedures that they have no idea about and being put in situations where they are being asked to sign forms, agreements and demands in a language that they don't understand. They need to be offered support, advice and an explanation in their own language about these procedures. Not having enough information about what they are signing can cause them anxiety and they can worry about if this will cause them problems in the future or lead to them to being transferred or removed from the country. I am pleased to be able to offer support to those that find themselves in these sometimes distressing situations and I wanted to further my experience and knowledge about those seeking asylum by spending time volunteering for the End FGM European Network.
The first week at END FGM included learning a lot of information about female genital mutilation in Europe and how to communicate about the issue. I prepared for the conference on FGM and asylum by creating folders and messages and attending meetings with the team to coordinate well together. It was the first time I had worked in an office with only women and it was a positive experience.
On the 8 November we held the conference with about 80 participants from across Europe with varied experience and knowledge about FGM. We discussed vulnerability in the asylum system for those affected by FGM and how we could have a gender-sensitive asylum system. The physiological effects of FGM practice were discussed and we also heard the reality of living with FGM from women directly affected by it. The stories I heard first hand affected me deeply, because they exposed the long-term consequences of this violation of human rights. Dr Luc Decleire also talked about the psychological effects and PTSD that can be caused by female genital mutilation and how this can influence the credibility of those seeking asylum in the eyes of case workers and other professionals.
On 9th November we organised a training seminar on the Victims' Rights Directive. We discussed the content of the Directive with the members of the network and how the directive can be used and applied for FGM victims and also the work at international level on gender rights, human rights and ending FGM. I had a question about the facilities available to protect victims of violence, because I believe this is a very important service.
Every day we have new challenges in ending gender-based violence and FGM. The practice happens in secret and is taboo, so it is necessary that we establish knowledge among professionals and raise awareness about the harmful effects of FGM.
Collecting data about the communities that practice FGM is vital. Including a specific question about whether a woman has already been affected by FGM during the asylum interview is also very important to gather more data. Specialised phone numbers and communication tools will also help to support communities affected by FGM. I think a new type of organisation and coordination is needed that will increase the knowledge of professionals to defend human rights and also prevent domestic violence. Supporting asylum demands, especially from countries affected by war and tyranny so that everyone has access to justice and human rights, is of real interest to me."